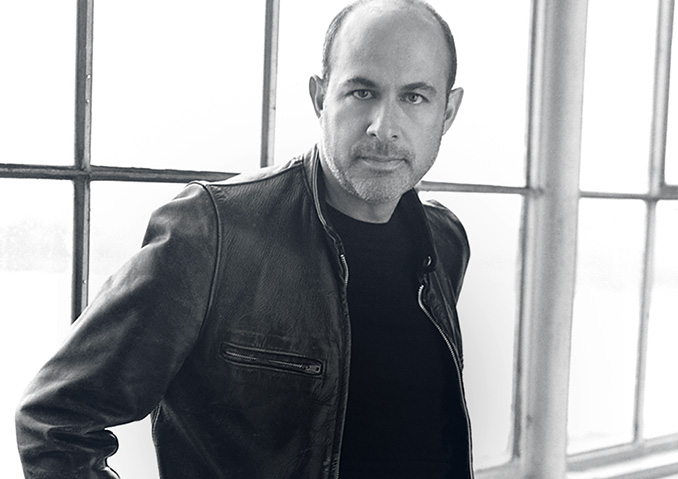 June 2000
Launch of John Varvatos
From the very beginning, John Varvatos infuses his namesake collection with a creative spirit and intrinsic edge so recognizably his own. In his own words, he designs the line for "a guy who appreciates beautiful fabrics and great details, without being too over-the-top." The signature Varvatos approach translates the best vintage looks and tailoring techniques into an original style that is always relevant and unmistakably modern. "My philosophy is about reaching back to move forward," says John. "I have something different to say with a sensibility that is both old and new." The designer credits his early obsession with rock music and the eclectic style of the artists as the catalyst for his interest in fashion. In a classic move, the first thing he does after leasing space for his Chelsea design studio is buy a killer audio system. Great music inspires his first collection and becomes a unifying theme in his design, seen to this day in every expression of the brand.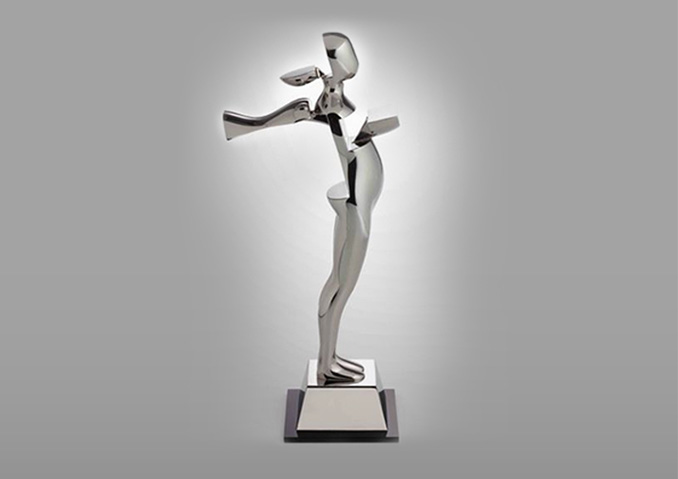 July 2000
CFDA Perry Ellis Award
Shortly after launching his collection, John Varvatos receives the Council of Fashion Designers of America Perry Ellis Award for New Menswear Designer. The award, created to single out promising new talent in the fashion industry, generates a lot of buzz and excitement around the brand. Recipients are determined by a selection committee made up of top magazine editors, journalists, stylists and retailers from around the world. Fellow nominees include up-&-comers Jason Bunin and Sean John.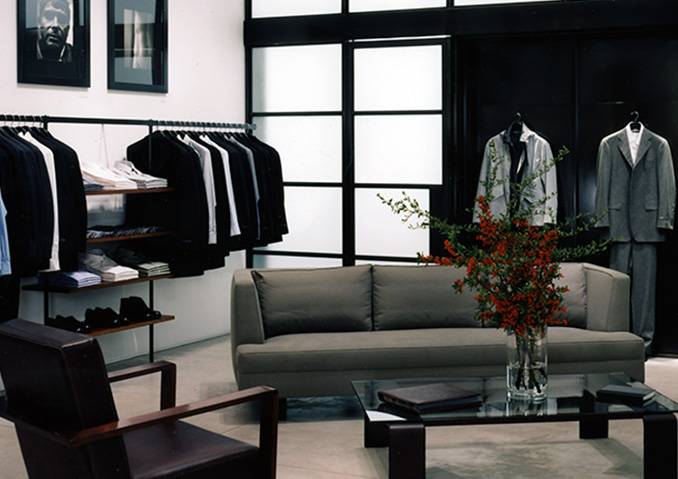 September 2000
First Store Opens in SoHo
John Varvatos opens his first freestanding brick-&-mortar store on Mercer Street in SoHo, a New York City neighborhood known for bohemian cool that is becoming a chic shopping destination. The store reflects the designer's honest, masculine aesthetic and is a magnet for both downtown hipsters and uptown gentlemen.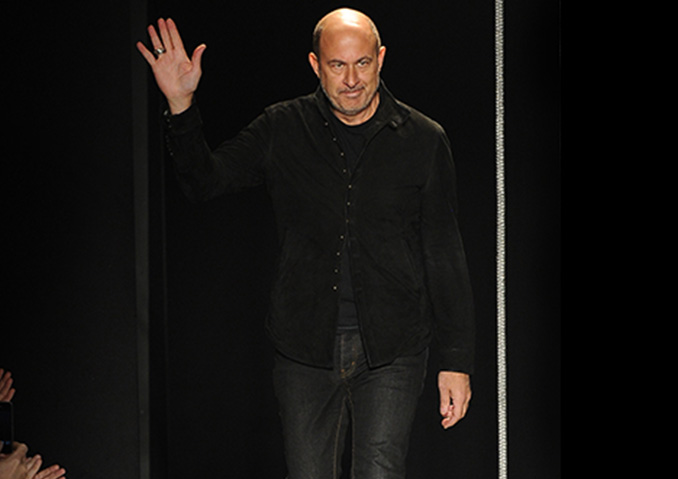 June 2001
CFDA Menswear Designer of the Year
For the second year in a row, John Varvatos is presented with an award by the Council of Fashion Designers of America, this time for Menswear Designer of the Year. Receiving two successive CFDA awards is an unprecedented achievement in the menswear category. Momentum continues to build for the young brand.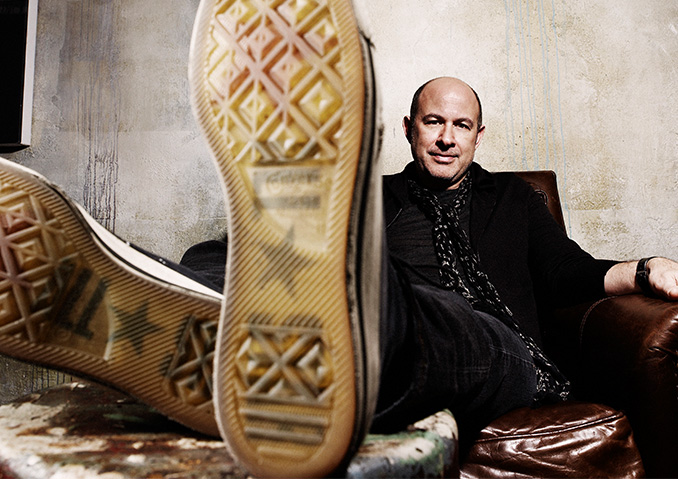 September 2001
Launch of Converse by John Varvatos
John Varvatos' collaboration with Converse gets off to a wildly successful start. The collection respects Converse's century-long heritage but is totally transformed by Varvatos' unique vision and urban-rocker sensibility. "My son, who's a little bit of a punk, and wears Converse every day, told me to be sure not to f*ck up the brand," laughs John. At the intersection of Converse, pop culture and fashion, the partnership gives rise to reinterpreted versions of many classics—including the Chuck Taylor All Star and the Jack Purcell—and starts a much-imitated trend with the now infamous John Varvatos Laceless Chuck Taylor. More recently, the Converse Weapon has become another iconic design for the ages. In the hilarious words of Simon Doonan, published in GQ: "John has an in-depth understanding of the American-male psyche. He knows that above all else, guys are fundamentally lazy, especially when it comes to matters of style and dress. They have no desire to fuss with cufflinks, pocket squares, or anything else that requires time and energy. They are much too busy doing things like watching the Super Bowl or listening to their Led Zeppelin vinyls. So John does something so simple it's almost criminal: He takes the favorite shoe of the American male—the Converse sneaker—and makes it a slip-on. It's the most life-changing style invention since the dickey."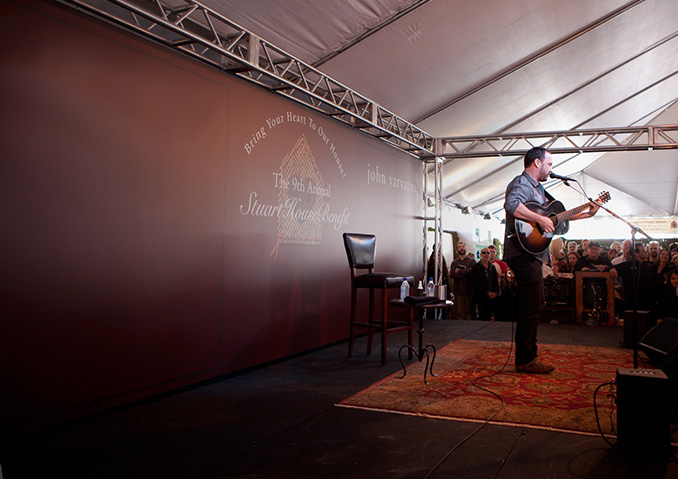 November 2002
Stuart House Charity Benefit
Benefit at his Los Angeles store in West Hollywood to support the Rape Treatment Center at Santa Monica-UCLA Medical Center. This internationally recognized program does great work serving the special needs of child victims of sexual abuse. The streets adjacent to the Melrose boutique are shut down for a concert and block party so successful it becomes an annual event that draws a glittering constellation of celebrities. To date, it has made possible the donation of more than $3 million to this worthy cause. "The first day I walked into Stuart House, it ripped my heart out," John remembers. "But it also made me realize that we as a company could really do something to help." The benefit also features performances by the likes of Chris Cornell, Cheap Trick, ZZ Top and Dave Matthews. Honorary chairs include Cindy Crawford and Rande Gerber, Kyra Sedgwick and Kevin Bacon, Jillian and Patrick Dempsey, Leslie Mann and Judd Apatow and, most recently, Jennifer Garner and Ben Affleck. John recalls every detail of.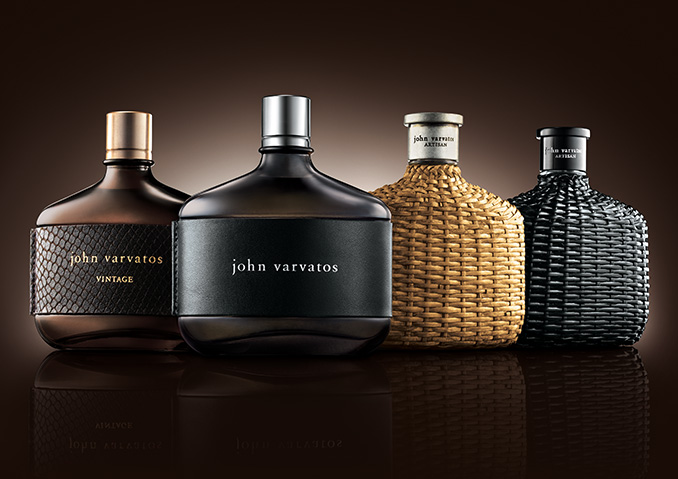 March 2004
Launch of John Varvatos Fragrances
With the launch of its first fragrance, John Varvatos Classic, the brand extends its reach into a new category. Classic is a masculine scent, an intense yet subtle mix of spices and woods with an alluring hint of sweetness. It taps into the sensual side of the John Varvatos man to become an instant classic. The fragrance collection has since grown to include Vintage, an aromatic scent with a warm, spicy appeal; Artisan, an explosion of citrus that leaves a very masculine impression; Artisan Black, a deeply textured study in contrasts that is refreshing and invigorating; and the 10th Anniversary Limited Edition, a richly sensual amber scent.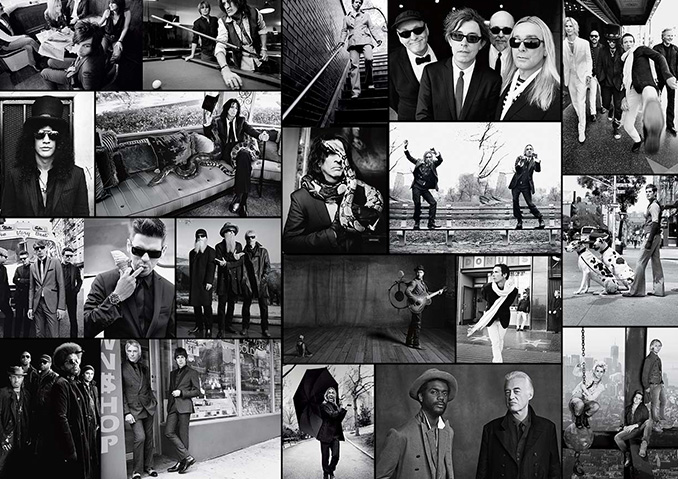 January 2005
Start of Music Campaigns
John Varvatos taps musician Ryan Adams to star in the Spring/Summer 2005 advertising campaign. This collaboration is the first of what is to become a signature of the brand, an iconic series featuring legendary musicians expressing their eclectic style in Varvatos clothing. "Usually fashion designers keep their eye on what the rock world is wearing and a year later you see a remarkable resemblance in their collections. In John's case, it seems to work the other way around. He has lent a lot of style to the rockers…" — Joe Perry, Aerosmith The campaigns are shot by legendary photographer Danny Clinch, renowned for his distinctive journalistic style and decades of work with musicians, including Johnny Cash, Bruce Springsteen, Tupac Shakur, Bob Dylan and many more of the world's biggest idols. Since the first campaign, featured musicians have included Joe Perry, Chris Cornell, Iggy Pop, Velvet Revolver, Alice Cooper, Cheap Trick, Perry Farrell, Franz Ferdinand, ZZ Top, Dave Matthews, The Roots, Green Day, Paul Weller & Miles Kane, and Jimmy Page & Gary Clark Jr.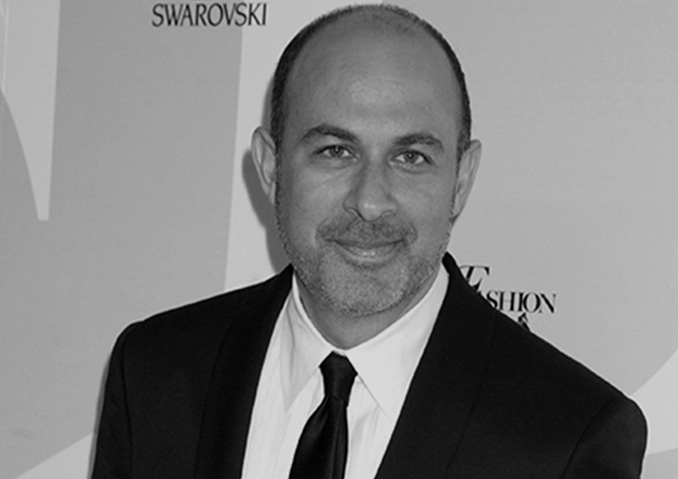 June 2005
CFDA Menswear Designer of the Year
John Varvatos receives a second Council of Fashion Designers of America Menswear Designer of the Year Award, giving him a total of three of these prestigious honors. Fellow nominees include John Bartlett and Ralph Lauren, John's former employer and mentor. "When I was talking to Ralph about going out on my own, he told me, 'You should only do it if you really have something new to say,'" John recalls. "So now, whenever I see him, he gives me a hug and says, 'You're doing it. You're really doing it.'"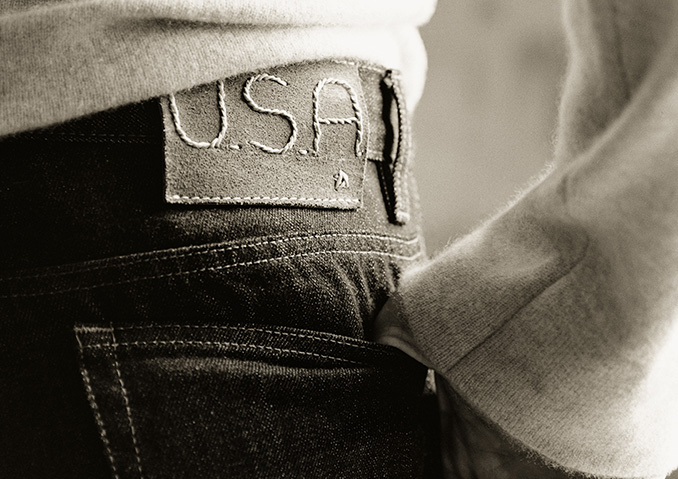 February 2006
Launch of John Varvatos U.S.A.
John Varvatos U.S.A. represents the expansion of the John Varvatos brand into new territory that further enforces it as a total men's lifestyle resource. This new line has a looser feel and a more youthful spirit expressed in a preppy-meets-punk aesthetic. The funked-up classics, many of them with a rumpled, worn-in look, still exhibit the designer's meticulous attention to detail and penchant for innovative finishes. It's a complete collection, including denim, sportswear, tailored clothing, shoes and accessories.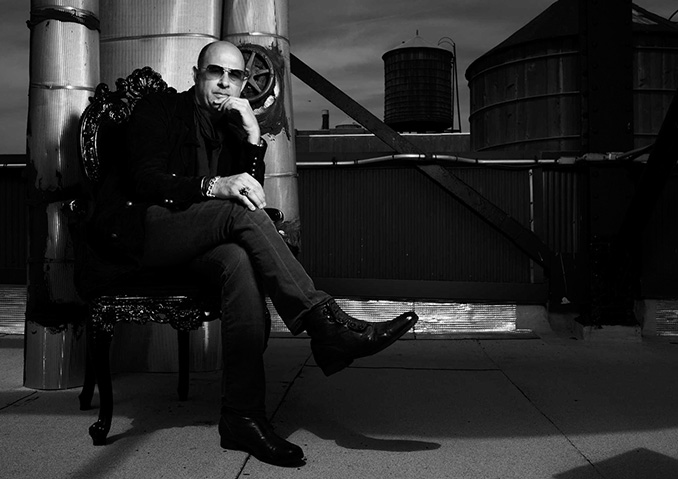 December 2007
GQ Designer of the Year
In GQ's "Men of the Year" issue, John is named Designer of the Year and featured in a rollicking piece written by Barneys creative genius and man-about-town Simon Doonan. "John's goal is to rid American men of their phobias about style. He wants American guys—regular blokes!—to start saying the F-word: fashion. Within the first few seasons, he gains a following with his honest, peasanty garments—sheepskin coats, moleskin pants, thick flannel shirts, textured knits, sturdy leather boots—in rich, dark hues. It is bold. There is nothing about these rough, tough, Gérard Depardieu, working-on-the-land garments that would challenge any dude's masculinity. If anything, John's rustic outfits make guys look even more butch rather than less so… Once John's followers are well and truly addicted to his rich, textured duds and his slip-ons, he goes in for the kill. He plays into the greatest of all dude obsessions, rock 'n' roll. This is the last straw. Once Varvatos injects his image with a lethal dose of Aerosmith, a whiff of Alice Cooper, a soupçon of Iggy Pop, and a whisper of Joe Strummer, men are powerless to resist."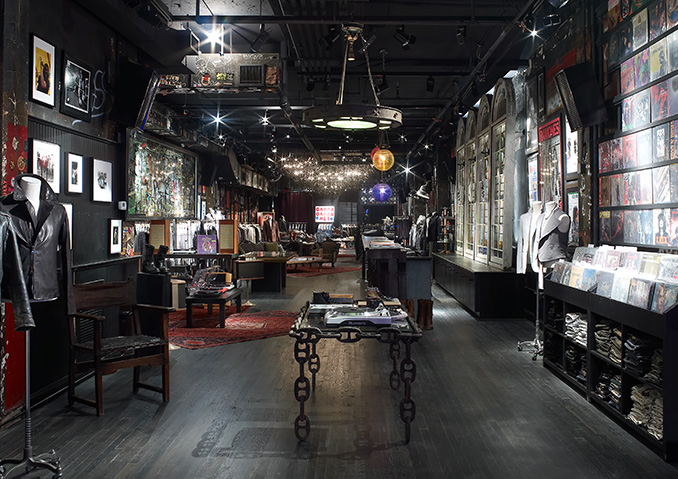 August 2008
Opening of Bowery NYC
In an inspired move, John Varvatos opens a new store in New York City on the Bowery in the venue that formerly housed the seminal underground music club CBGB's. Much of the club's interior, including the walls, are inscribed with graffiti and plastered with the original concert posters, stickers and band fliers. The brand retains much of the familiar atmosphere, with a black ceiling and theatrical lighting creating a dark, moody space. "It's a tribute to what CBGB meant to America and to the world," says John. "But we're not building a mausoleum. We're gonna have concerts. We're gonna build a living, breathing rock 'n' roll store." John Varvatos keeps the heritage of this legendary site alive with the monthly concert series "Bowery Live," featuring performances from both up-and-coming and established acts. Performers range from Guns N' Roses, Alice Cooper, Slash, The Roots, The Wallflowers, Paul Weller and Black Rebel Motorcycle Club to countless local bands and artists.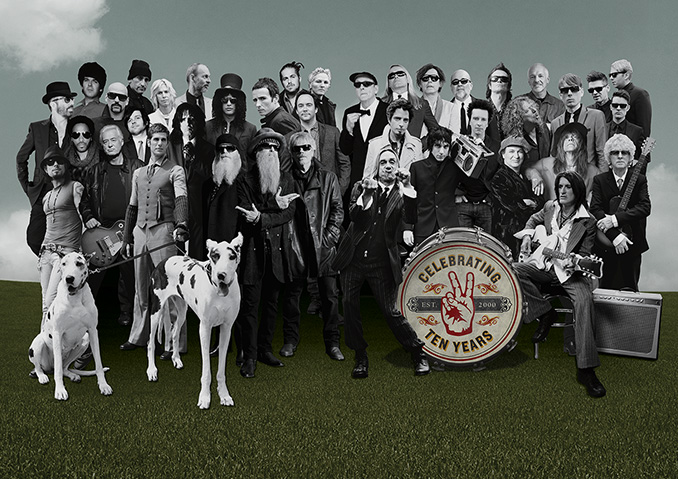 September 2010
10th Anniversary
The 10th anniversary of the brand is cause for celebration. A landmark ad campaign creates a visual tapestry of the heart and soul of the brand and pays homage to John's heroes. An all-star lineup of musicians features 39 artists, many of whom have been part of the historical ad campaigns. Included are musicians—from Robert Plant to Lenny Kravitz to the New York Dolls—who have influenced and supported the company during its journey, and performed at countless store openings and charity benefits. The campaign is featured nationwide in all John Varvatos store windows, in outdoor ads around the country and in international publications. "It's about friends and family," says John, "and bringing together all of the artists who have been in our campaigns or encouraged us along the way." The artists, shot by frequent collaborator Danny Clinch, are Clem Burke, Dave Kushner, Handsome Dick Manitoba, Duff, Wayne Kramer, Slash, Scott Weiland, Citizen Cope, Matt Sorum, Rick Nielsen, Robin Zander, Tom Peterson, Bun E. Carlos, Billy Morrison, Glenn Hughes, Robert Plant, Peter Frampton, Alex Kapranos, Nicholas McCarthy, Bob Hardy, Paul Thomson, Ian Hunter, David Johansen, Sylvain Sylvain, Jesse Malin, Chris Cornell, Iggy Pop, Dave Matthews, Frank Beard, Billy Gibbons, Dusty Hill, Alice Cooper, Jimmy Page, Ryan Adams, Perry Farrell, Lenny Kravitz, Dave Stewart, Dave Navarro and Joe Perry. John Varvatos also hosts a special concert at the Bowery NYC store, with performances from ZZ Top, Alice Cooper, Perry Farrell and more.